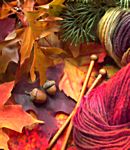 The raising, harvesting, dying, and creating of the yarns and garments we share with you, fulfills the most ancient of artistic concepts - that of the artist being involved with his "creation" from the most basic elements of earth to the ultimate reality of vision.
We are able to choose fiber as "it" walks past us, judge it's warmth and subtlety of color - combine it with jewel like color dyed in our kettles - then design rovings and yarns that let you experience and create your own art to wear.
The color ways and texture of our fibers and garments are the reflections of memories of families - Victoria's Morning, Esther's Antique Garden, Hattie's Zinnias; the colors of Scotland and Celtic Ways - Kellswater, Moorland Tweeds , Connamaragh and of course the ever present beauty that we are surrounded by in our own valley here in the Indiana County Highlands - Pheasants in the Oaks, Winter Woods, Queen of the Meadow, Mosses and Mushrooms.
Take up our elemental creations and fulfill an artistic vision of your own.
Ken and Harriet Knox - Autumn House Farm

Autumn House Farm is a fully functioning woolen mill. We raise our own wonderful variety of fine bred sheep, produce unequaled custom rovings for handspinners, develop and hand dye our own yarns and produce handmade garments of the highest quality. We host a wide variety of workshops and classes and have a guest house on the farm, called the Shepherd's Rest Inn that we rent to individuals, groups, or guilds. If you or your group are thinking of a fiber get-a-away, be sure to check it out!
Heritage Artworks is an artisans gallery featuring the fine art and photography of Victoria Dicken. The beauty of her farm and fiber related limited edtion prints, notecards and bookmarks shouldn't be missed. Also featured at Heritage Artworks is the amazing forest furniture created by John Leydic. Hand crafted from all natural wood and branches, these commissioned pieces are one of a kind!

Thank you for visiting us and please enjoy your time here at Autumn House Farm.
Where Yarn is Born!