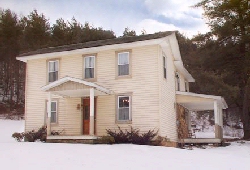 Throughout the years, so many visitors to our farm have expressed a wish to be able to "live in a place like this." Knowing what joy we have daily here in the Valley, we decided that we could indeed offer others this unique experience too.

Blessed with an "extra" farmhouse, we've restored this 19th Century lady as a retreat for fiber students who would like to leave the hectic "lock your doors" life behind and step back in time a little

We're located in the wooded highlands of Northern Indiana County, in the heart of Western Pennsylvania Amish country. Surrounded by wonderful deep woods and beautiful farm lands, the inn sits at the edge of the pine forest here in our secluded Valley. Eight to ten students can be accommodated at one time and the house is completely furnished with period antiques.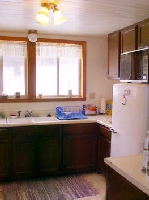 The Shepherd's Rest Inn is completely private and self catering. Farm fresh breakfast sausage, eggs, milk and juice are provided. The kitchen is complete with china, pots and pans and microwave, guests need only bring food. All bed linens are provided, as well as a clothes washer and dryer.



Meals may be enjoyed in the "keeping" room around the old oak farm table. Enjoy sitting in our fine Amish rocker with your morning cup and watch the wildlife walk right past the large picture window.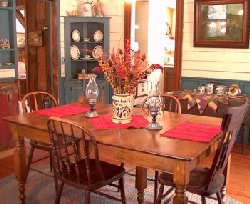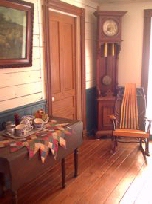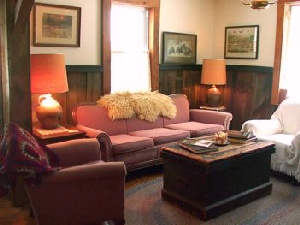 Prop your feet up in the living room and enjoy an evening in front of a crackling fire.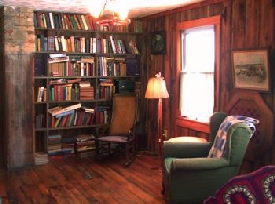 Our extensive library allows you to sit and read to your heart's content and also has plenty of space for looms, spinning wheels, hunting gear, work-shops seminars or classes.




Enjoy three full bedrooms upstairs, each filled with intriguing family antiques. The "Dairy Maid's" room has a full size bed and features wonderful, warm furniture, walls and flowered lamps.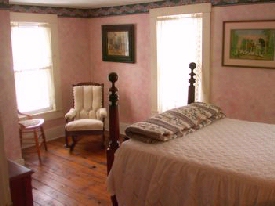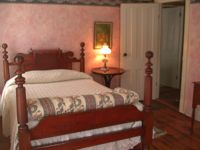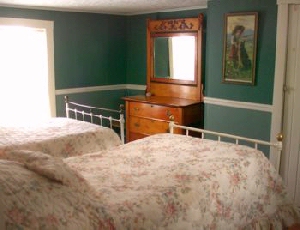 The "Gamekeeper's" room has two rustic full size beds and lantern lamps that cast a warm glow on the open face plank walls.

Student Rates

$30.00 a night per person
$ 5.00 a night per ea. child over ten yrs.

** Special group rates are available.





Guests may sit on the large open porch and enjoy their morning coffee with a view of the lovely forest pond or watch the sheep climb the hills across the Valley at Autumn House Farm. You may hike the 100 acres of hills and nature trails or swim and fish if you choose.

Of course, you are welcome to shop at our Antique Barn and Spinnery Shop for fine gifts and yarns and even take part in farm activities and feed the animals.
Local outings can be set up for you including some of Pennsylvania's best "antiquing" opportunities and shopping for quality crafts from our Amish neighbors.

You can enjoy our abundance of wildlife here in the valley; deer feeding in the meadow fields, our hawks who live on the hilltop, wild turkeys who feed in our corn fields. In the evening you can enjoy the "conversation" of the screech owls and "chunker" frogs and take in the coolness rising out of the bottom after the heat of the day.

In the fall the Valley and surrounding hills explode with color. You'll hear the mystic call of the flights of geese as they pass overhead and sometimes stop for a visit!

Thanksgiving comes and with it the anticipation of a successful hunting season. You can take advantage of prime hunting opportunities on our 100 acres as well as our neighboring farms with permission.

Winter brings quiet times of reflection; nights by the fire, sledding and cross country skiing on open fields and views of magical snow capped trees and hills.

Please make your reservations early as we like to know your needs as much as possible. If you need further information, please call 1-724-286-9596.